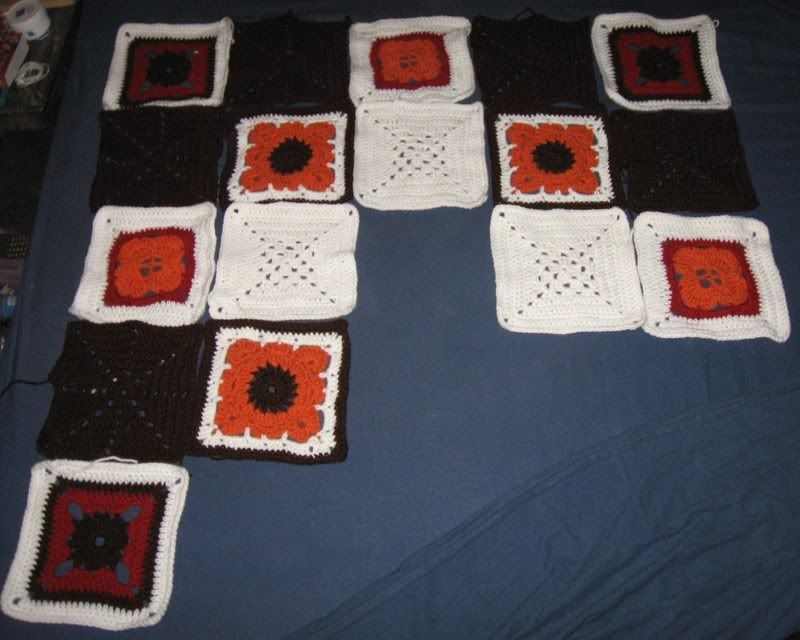 Okay, first of all I am pissed off because when I tried to directly upload these pictures from my computer, they all uploaded at a 90 degree angle. After retrying and failing, I finally ended up having to link them from my Photobucket. Damn annoying and I hope that never happens again.
On the brighter side, the above picture is my getting-there Autumn Afghan. I absolutely love it. All of the squares are from the amazing, beautiful book "200 Crochet Blocks" by Jan Eaton. I'd estimate approximately one hour per block - sometimes a bit more. All cheapy Red Heart acrylic, using a 4.25mm hook. It's looking great and it's totally going to be done just in time for when I arrive back in Toronto for the fall season. :)
And now, I'd like to introduce you to each block, by its given name from the book: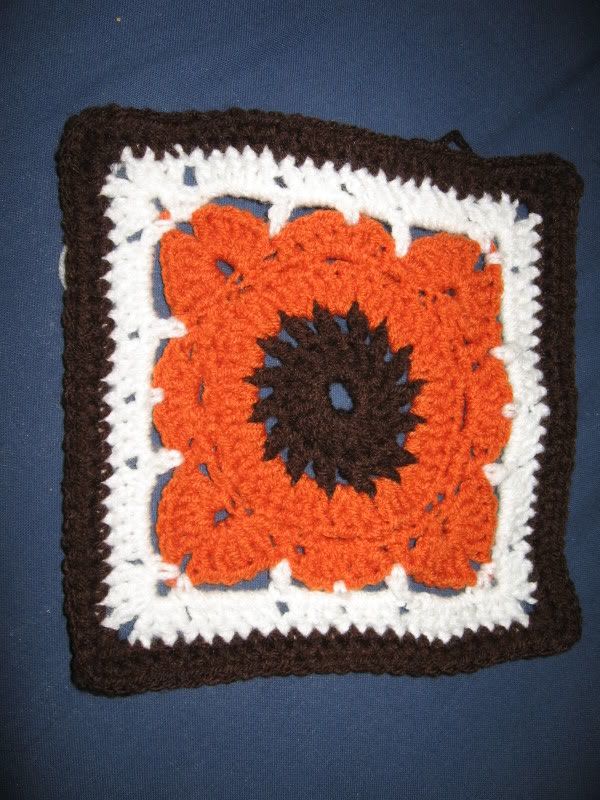 This is Willow. I love Willow - it looks great. But it is also the most time-consuming of the blocks.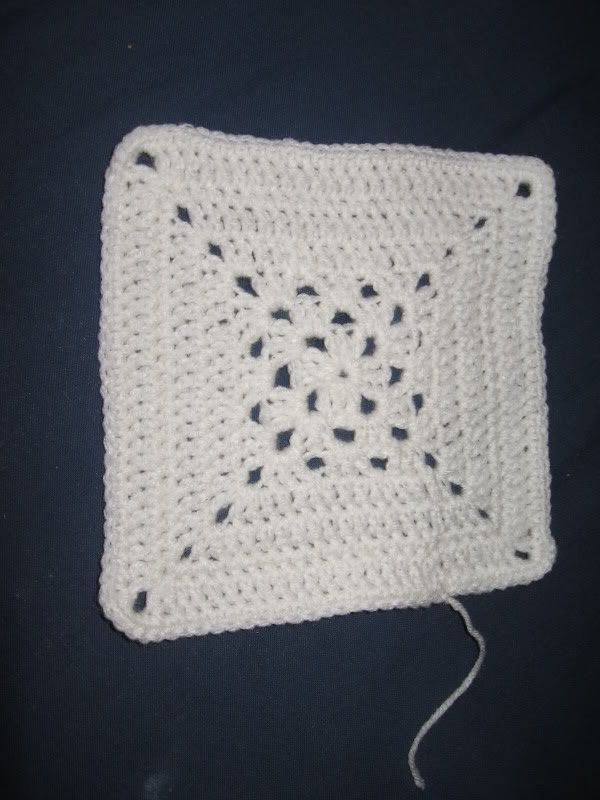 This is Centered Square. It is really easy to make one of these.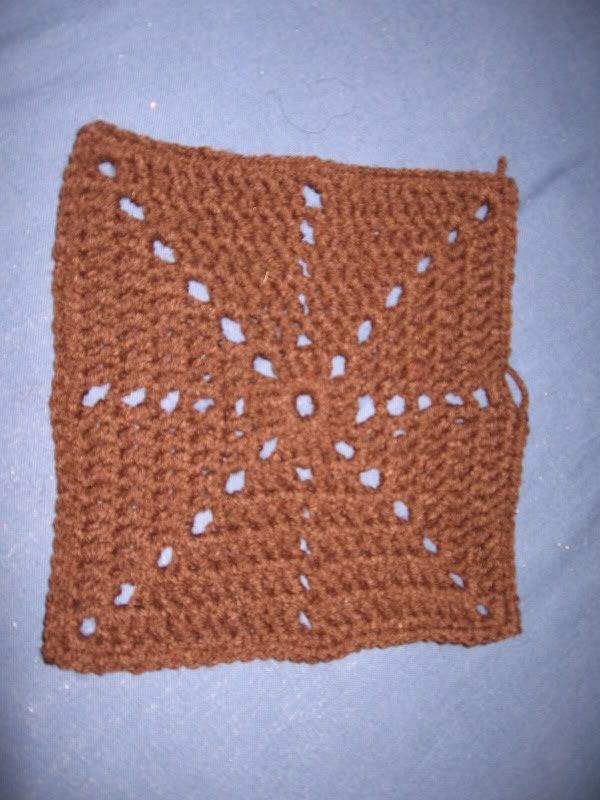 This is Criss Cross. The flash has made the brown look lighter than it really is. It's also easy, and thank god for that - I have to make the most of this square, eight altogether.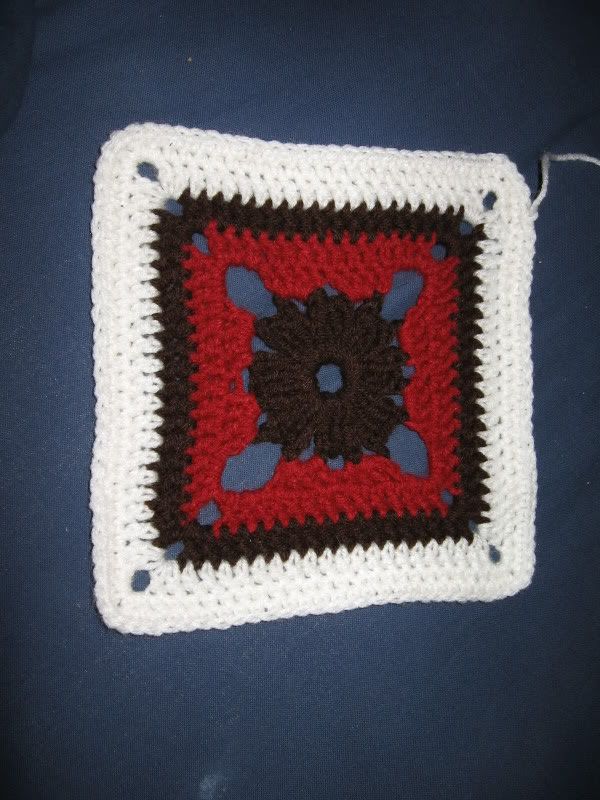 This is Begonia. Love, love Begonia. I love its big lacy holes.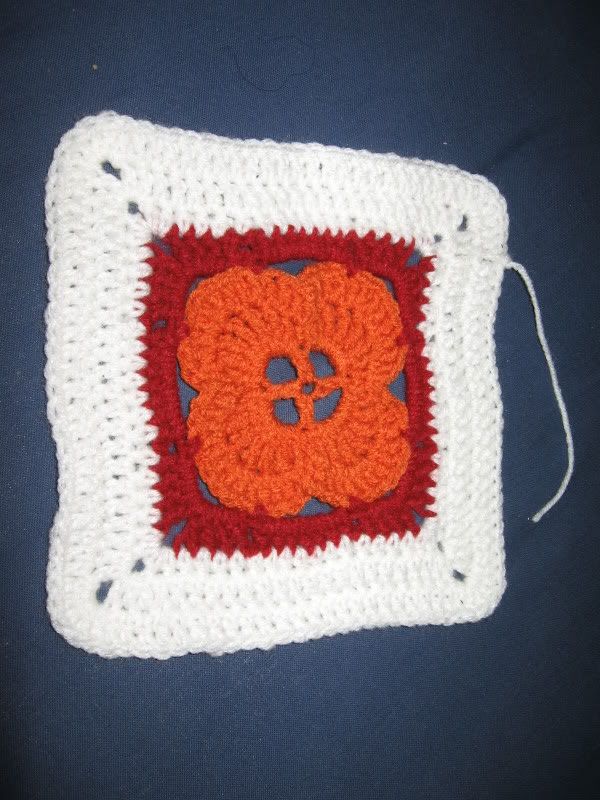 This is Framed Flower. The second most difficult and time-consuming, but I love it.
So I have to make four of each of these, excluding Criss Cross, which needs eight. I also have to make one unique one for the very center of the afghan, and I'm going to pick a challenging one for that. I'm loving this afghan so far. It's just very difficult trying to imagine where I am going to find room to pack these squares in my suitcase for the trip home. I am dead-out of room already.
Oh, one more thing: in the first picture, that isn't a roll of toilet paper on the nightstand. It's my little container of Nivea Soft. Love that stuff!